FJ Cruiser Storage Solutions, National Luna & Tembo Tusk Installation
This week we have been working on a storage platform for the FJC Cruiser.  This platform allows us to mount the Tembo Tusk Fridge Slide and National Luna Fridge that we will be getting great use of in Utah in the coming weeks.  We constructed the platform out of 3/4in plywood and covered it in black carpet to better match the FJ Cruiser interior.  The finishing touch was installing aluminum "c-channel" to cap the ends off secured by stainless recessed screws. 
Following the construction of the platform we mounted the Tembo Tusk Slide and wired in our National Luna Fridge.  We decided to mount the outlet on the inverter outlet panel on the back right side of the cargo area.  Eight gauge wire was used to ensure there was little power loss on the somewhat long run under the plastic interior trim to the auxiliary battery.  We utilized the Tembo Tusk "Buffalo Straps" to secure the fridge to the slide and they do a great job keeping it locked down.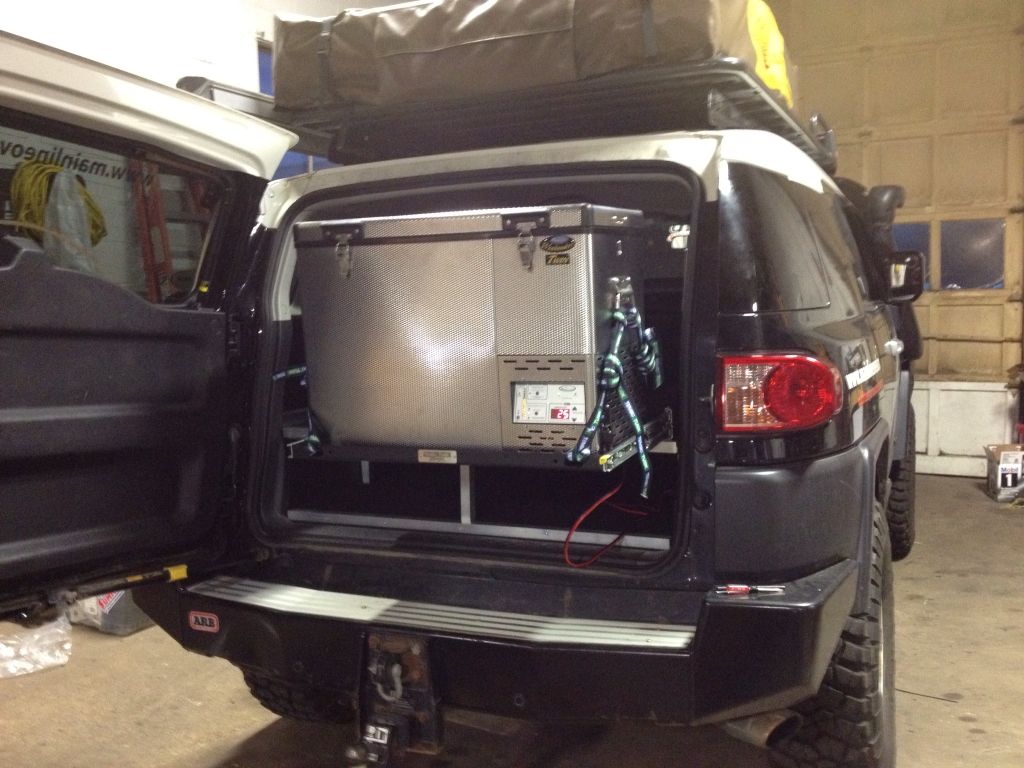 The fridge and freezer were cold within minutes and allows monitoring of the charge level on both the fridge and dual battery monitor.  All in all we are very happy with this set up, it performs as it should, allows us to pack more efficiently and rolls down the road without any shakes or rattles.