MLO Waynestock 2012 Trip Report
This past weekend Main Line Overland (MLO) attended the thirteenth annual "Waynestock." Waynestock is an annual white water rafting trip on the Lower New River in West Virginia. Thousands of people, spanning from areas across the Mid Atlantic and the Northeast regions, descend on the New River in order to participated in what has been coined "Waynestock" by the River Expeditions Guides.  Waynestock drawls like minded people together to enjoy camping and the spectacular outdoor experience West Virginia, and the New River Gorge, has to offer. 
We took the MLO FJ Cruiser to this event, and we had it packed to the gills with people and gear.  Even with five occupants, roof rack, rooftop tent and the rear cargo area filled, the FJ still pulled hard up the West Virginia hills. However, we are still looking forward to re-gearing for our trip out west later this summer.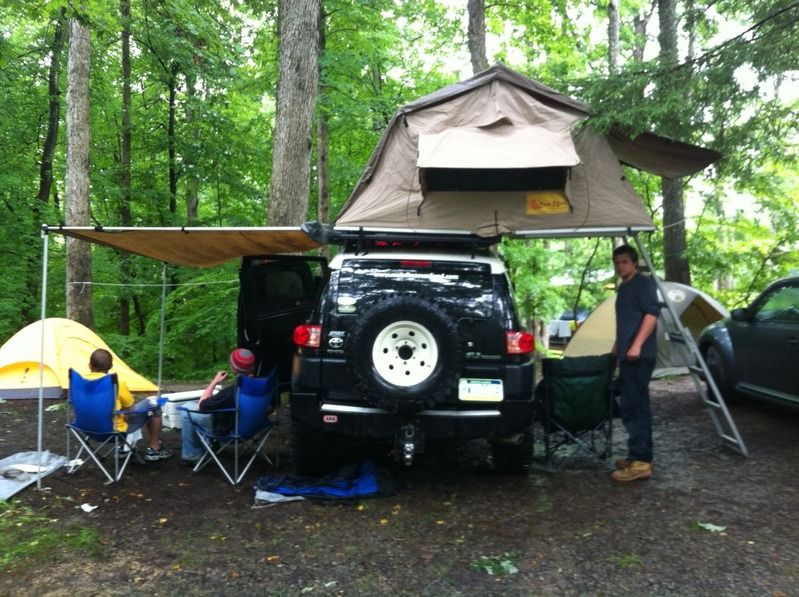 Our Eezi-Awn roof top tent and ARB awning got a lot of attention, especially due to the fact that it was raining heavily upon our arrival. As a result, time was of the essence when setting up camp.  With our tent mounted up high and out of the wet muddy mess, we got a lot of interested campers wanting to know more about them.
The rafting was incredible and our whole group had a blast!  We are currently in the planning stages of returning to West Virginia this fall to run the upper and lower Gauley River, which can be much more technical and require a smaller raft.  We have penciled Waynestock 14 into our calendars for next year and we hope to see you there!